There is a real critical need today and tomorrow to call Sakuma Brothers Farms and demand that they negotiate a contract with the farm workers.  The berries are ready to pick, the berry pickers are on strike, and Sakuma Bros Farms is refusing to negotiate.
Farmworkers will be rallying today. Please call Sakuma Bros. Farm and encourage them to do the right thing and not displace entire families. Come in person to rally with the farmworkers as they enter a new stage in their labor struggle for a contract that would make them more secure in their jobs as pickers.
Call Sakuma Bros Farm
PLEASE MAKE CALLS NOW!!    Stop The Checkpoints
For background information on this labor struggle:
Last week, indigenous and Latin@ workers at Sakuma Brothers Farms held two sit down strikes, achieving small wage increases.  But they want more – they want a contract that can't be reneged.  Sakuma Farms fired Ramon Torres, the president of the farmworkers' organization, the very next day.  Since then Sakuma workers have been on strike.
This morning, Ryan Sakuma came to labor camp 2 and informed the farmworkers that those who were planning to strike today needed to pack up their belongings from the labor camp and come to the Sakuma Field office to pick up their severance paycheck.
Read more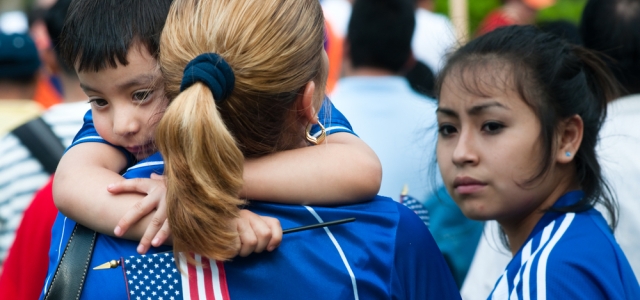 While the recent debate over reauthorization of the Violence Against Women Act and the Trafficking Victims Protection Act may have reminded the nation that there are "women's issues" in immigration law, it doesn't necessarily follow that most people regard immigration reform as a woman's issue. Despite the fact thatimmigrant women make up a growing share of workers, entrepreneurs, single heads of households, and new voters—while remaining primary caregivers in families—the laws we craft to reform our broken immigration system have often been insensitive to the obstacles and challenges immigrant women face in applying for immigration status.
As Kavitha Sreeharsha identified in a 2010 paper for the Immigration Policy Center, there are pitfalls we face in crafting inclusive immigration laws:
"…a CIR package must include a path to legalization that values the contributions of immigrant women as part‐time and informal workers. Read more
By DONNA GORDON BLANKINSHIP, Associated Press,  January 3, 2013 at 2:16 PM
Several hundred Washington families are expected to benefit from a U.S. immigration rule change
that was announced this week to speed up the process to keep American citizens together with
their illegal immigrant spouses and children.
The legal director for the Northwest Immigrant Rights Project said on Thursday that it's
too early to say how much time and effort the new rule will save families.
Before the rule change, which goes into effect March 4, many illegal immigrants had to
leave the country before they could ask the federal government to waive a three-year-
to 10-year ban from returning to their American families.
Under the new rule, a U.S. citizen can petition for a waiver while the non-citizens
remain in this country waiting for a decision.