Statement from National Day Laborer Organizing Network
President Must Use Senate Bill as Guide in Upcoming Executive Action
Yesterday, for the first time, Janet Napolitano revealed her perspective on how the decision to do DACA was made in 2012.   Today, Buzzfeed is reporting that the President is set to receive final recommendations from his current Secretary of Homeland Security about expected changes in deportation policies.   In reaction, Pablo Alvarado the Executive Director for the National Day Laborer Organizing Network issued the following statement:
"While there is clearly a battle under way to manage expectations for the scope of the forthcoming administrative action, we will continue to push for the maximum exercise of legal discretion under the law.  That includes a bare minimum, an extension of work authorization to everyone who would qualify under the Senate bill and an end to the Secure Communities program and policies that criminalize immigrants.   The President has the legal authority, the moral obligation, and the political capital required to take these important steps. 
"If the President provides relief for less people than would have qualified for a path to citizenship under the Senate bill, Read more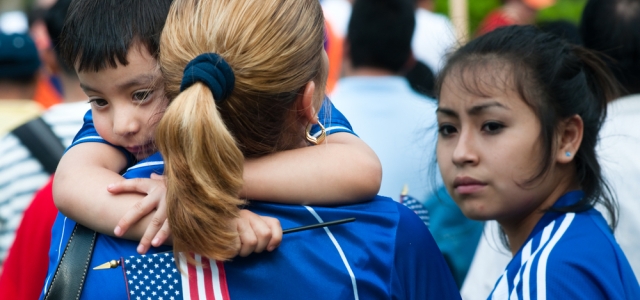 While the recent debate over reauthorization of the Violence Against Women Act and the Trafficking Victims Protection Act may have reminded the nation that there are "women's issues" in immigration law, it doesn't necessarily follow that most people regard immigration reform as a woman's issue. Despite the fact thatimmigrant women make up a growing share of workers, entrepreneurs, single heads of households, and new voters—while remaining primary caregivers in families—the laws we craft to reform our broken immigration system have often been insensitive to the obstacles and challenges immigrant women face in applying for immigration status.
As Kavitha Sreeharsha identified in a 2010 paper for the Immigration Policy Center, there are pitfalls we face in crafting inclusive immigration laws:
"…a CIR package must include a path to legalization that values the contributions of immigrant women as part‐time and informal workers. Read more
Filipinos in U.S. Release Immigration Rights Platform to Hold President Obama Accountable to True Comprehensive Immigration Reform
Migrants' Platform Enumerates Demands for Genuine Change
The National Alliance for Filipino Concerns has released an 8-point immigration rights platform on January 22, 2013, the day following President Obama's re-inauguration, as part of its Dignity and Justice for Im/migrants campaign. During both election campaigns, Obama promised to take on comprehensive immigration reform, but has yet to do so.
"This platform articulates the most urgent needs of Filipino immigrants in the U.S. and defines what must be included in Obama's comprehensive immigration reform. Anything less is unacceptable," said Terrence Valen, NAFCON President.